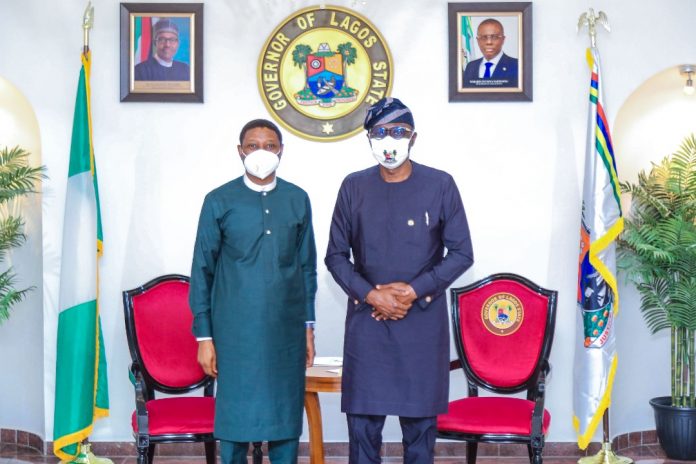 The Executive Governor of Lagos State, Mr Babajide Sanwo-Olu has pledged to continue to support Christian pilgrimage in his state. He disclosed this recently at Lagos House, Marina while receiving in audience the Executive Secretary of the Nigeria Christian Pilgrim Commission, Rev. Yakubu Pam who was in the State on a sensitization visit. He assured the NCPC boss that he would continue to support the Commission and the activities of the state Christian Pilgrims Welfare Board. He explained that beyond government sponsorship, that his administration would continue to create the enabling environment so that intending private Pilgrims would have enough resources to sponsor themselves on Holy Pilgrimage.  Governor Sanwo- Olu assured the NCPC boss that he would continue to support NCPC so that the Commission would complement the efforts of the government through prayer and spiritual guidance. The No 1 citizen of Lagos State thanked Rev.Pam for commending the giant strides of his administration , especially in the sponsorship of Christians during the 2019 general Pilgrimage
He averred that good governance is about improving the quality of life of the people; hence his administration would stop at nothing to make sure that the people of Lagos State enjoy the dividends of democracy through youth empowerment and infrastructural development. He prayed that the tenure of the NCPC boss would experience peace and progress.
 Earlier, the No 1 Christian Pilgrim Officer of the Federation told the Governor that he was in the State on a one day sensitization visit preparatory for the buildup  of this year's December general Pilgrimage. He commended the Governor for his support last year and for hosting the flag off of the 2019 general Pilgrimage exercise.  
He stressed that the Holy Bible enjoined us to pray for the peace of Jerusalem and any country that is a friend of Israel would continue to experience peace. He further affirmed that Pilgrimage is the only thing Christian believers enjoy as their own dividends of democracy. He informed the Governor that the Commission would partner with Lagos State on Agriculture in order to expose the youths to skill acquisition through youth pilgrimage. Rev Pam also canvassed for increase in the number of Pilgrims being sponsored by the state in this year's December general Pilgrimage exercise.